Shares of Prologis (PLD - Free Report) , carrying a Zacks Rank #3 (Hold), have gained 10.9% in the quarter-to-date period, outperforming the industry's growth of 3.3%.
In January, this behemoth of the industrial real estate investment trust (REIT) category reported fourth-quarter 2022 core funds from operations (FFO) per share of $1.24, beating the Zacks Consensus Estimate of $1.21. The figure climbed 10.7% from the year-ago quarter.
The quarterly results reflect better-than-anticipated revenues, driven by healthy leasing activity and solid rent growth.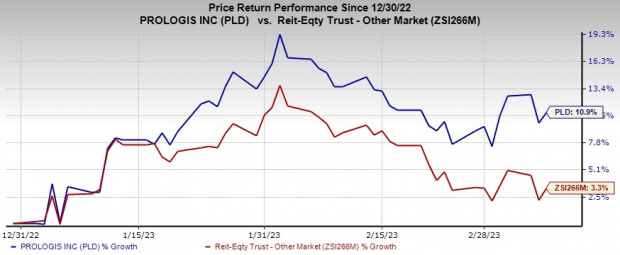 Image Source: Zacks Investment Research
Let us decipher the factors behind the surge in the stock price.
The demand for industrial real estate space is escalating, given the growth in industries, an e-commerce boom and companies' endeavors to improve their supply-chain efficiencies. Prologis' portfolio of modern and high-quality logistics facilities has benefited from these favorable industrial real estate market fundamentals.
The company has been witnessing a healthy operating performance, as evident from its solid leasing activities. In the fourth quarter of 2022, 42.5 million square feet (msf) of leases commenced in the company's owned and managed portfolio, with 36.9 msf in the operating portfolio and 5.6 msf in the development portfolio. Moreover, the retention level was 82.4% in the quarter, up from 76.4% reported at the end of the prior quarter.
Prologis' average occupancy level in its owned and managed portfolio was 98% in the fourth quarter. Its share of net effective rent change came in at 50.6% in the fourth quarter, which was led by the United States at 55%. The cash rent change was 32.4%. The cash same-store net operating income (NOI) was 9.1%. The growth was led by the United States at 9.6%.
To enhance its portfolio, PLD is focusing on acquisitions and developments in strategic markets. In 2022, the company's share of building acquisitions amounted to $2.07 billion, with a weighted average stabilized cap rate (excluding other real estate) of 4.3%. Development stabilization aggregated $2.88 billion, while development starts totaled $4.67 billion, with 39.2% being build-to-suit.
Notably, in October 2022, the company closed on the acquisition of Duke Realty in an all-stock transaction valued at $23 billion, including the assumption of debt, thereby boosting its presence in the key markets of the United States.
The company's robust balance-sheet position enabled it to capitalize on long-term growth opportunities. This industrial REIT's liquidity amounted to $4.1 billion in cash and availability on its credit facilities as of Dec 31, 2022. Also, credit ratings of A3 (Outlook Stable) from Moody's and A (Outlook Stable) from Standard & Poor's as of Dec 31, 2022, render the company easy access to the debt market at favorable costs.
The company's trailing 12-month return on equity (ROE) is 7.71% compared with the industry's average of 3.77%, indicating that it is more efficient in using shareholders' funds than its peers.
Solid dividends are a huge attraction for REIT investors, and PLD has remained committed to that. It has increased its dividend six times in the last five years, and its five-year annualized dividend growth rate is 11.91%. Such efforts boost investors' confidence in the stock.
Nonetheless, the rising supply in several markets is likely to intensify competition and curb pricing power. The stabilization of e-commerce sales growth and more modest demand remain concerns for rent increases.
Stocks to Consider
Some better-ranked stocks from the REIT sector are VICI Properties (VICI - Free Report) , Alexandria Real Estate Equities (ARE - Free Report) and Terreno Realty (TRNO - Free Report) , each carrying a Zacks Rank #2 (Buy). You can see the complete list of today's Zacks #1 Rank (Strong Buy) stocks here.
The Zacks Consensus Estimate for VICI Properties' current-year FFO per share is pegged at $2.10.
The Zacks Consensus Estimate for Alexandria's 2023 FFO per share is pegged at $8.94.
The Zacks Consensus Estimate for Terreno Realty's ongoing year's FFO per share is pegged at $2.17.
Note: Anything related to earnings presented in this write-up represent funds from operations (FFO) — a widely used metric to gauge the performance of REITs.