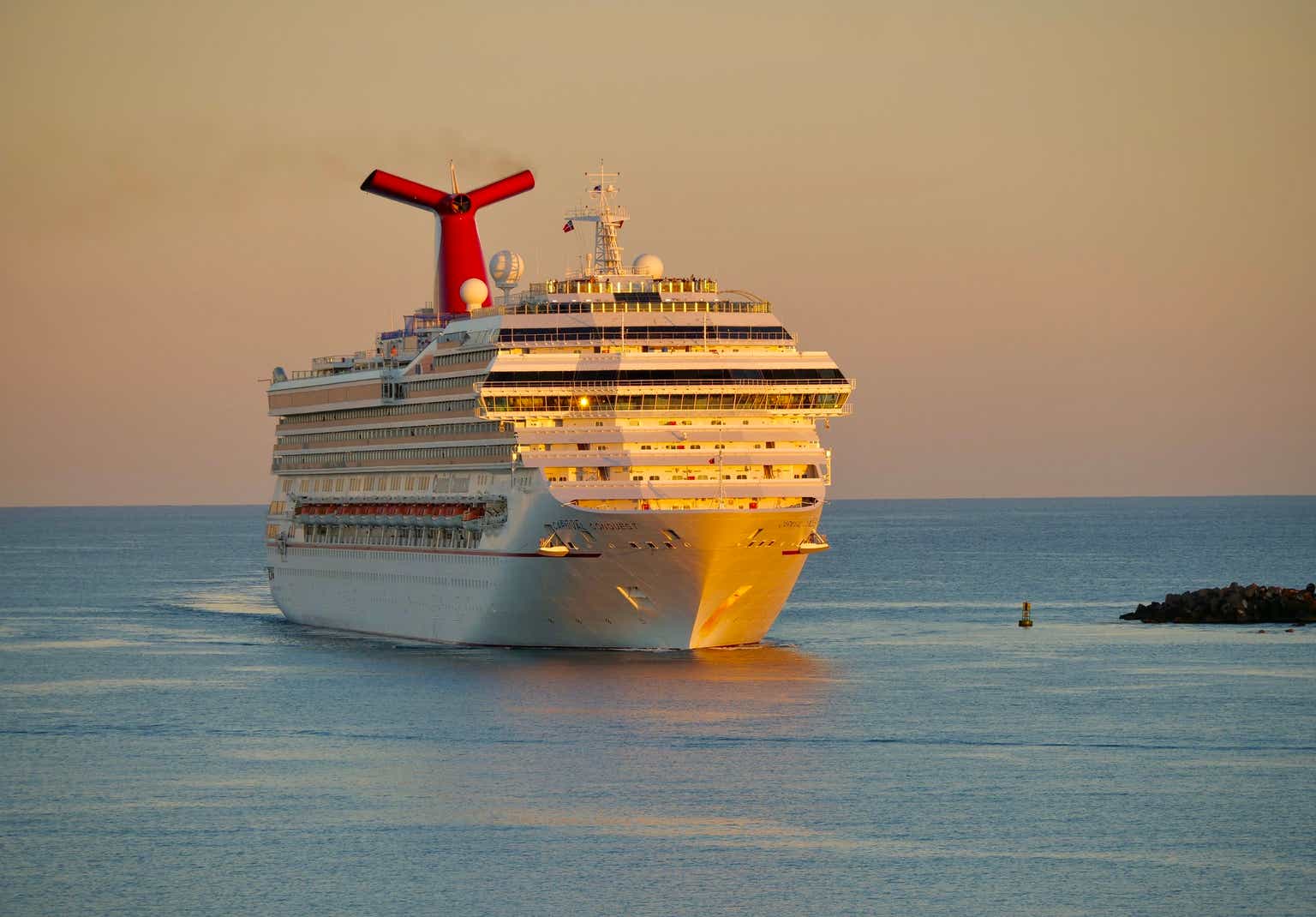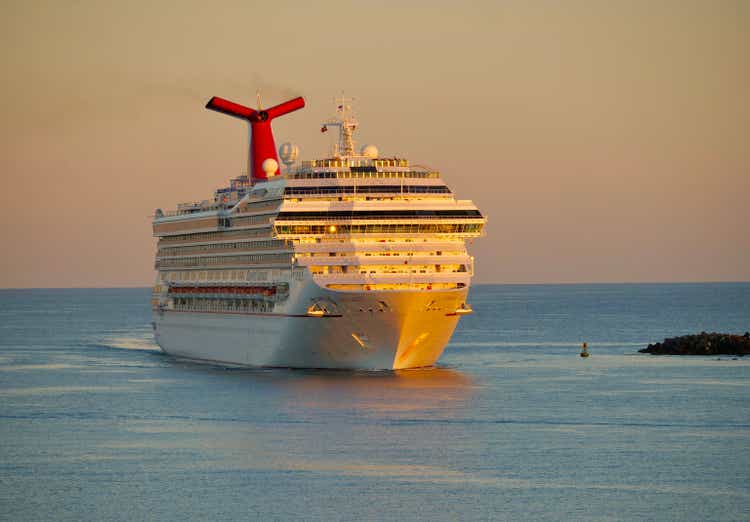 Ah, retirement. The golden years. The time when people finally get to relax, travel the world on a cruise ship, and work 16 hour shifts on a cruise ship because they can't afford a ticket. Too rough? Snark was in the title.
You mean to tell me that people are eagerly awaiting retirement, but not actually planning for it? Wow, color me surprised! I mean, who needs to know how much retirement will cost, right? Just wing it, what could possibly go wrong? They could end up on Carnival (CCL), so that's pretty bad. Don't get me wrong, there's nothing wrong with several of their brands. It's just the one they were named for that you shouldn't touch. That one sounds about as fun as the investor relations section of their website: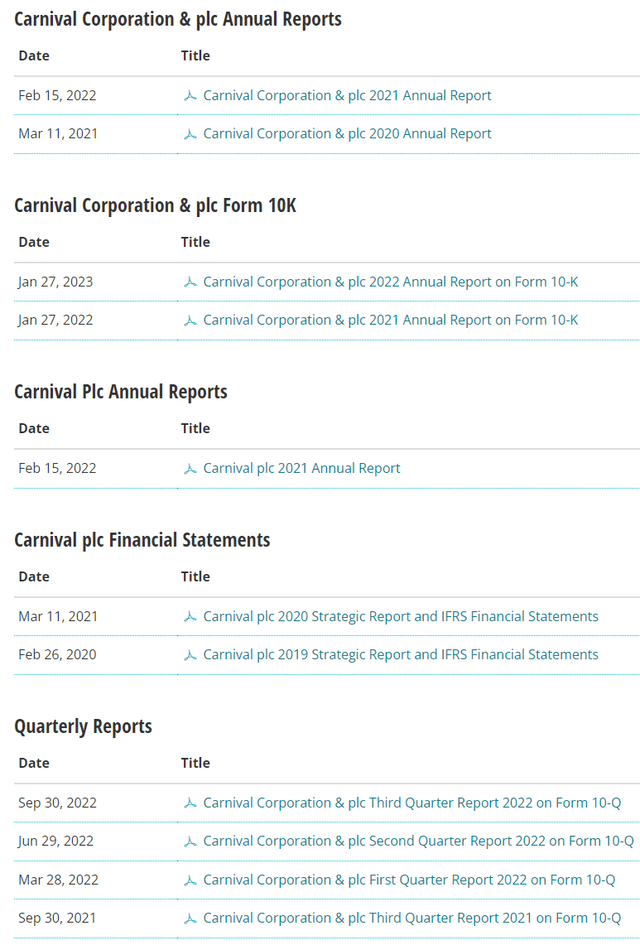 Thought I'd have some nice charts to show off? Apparently not.
If you want to actually have a clue about how to plan for retirement, might I suggest checking out Seeking Alpha's free articles? You get a couple each month. You could always buy premium to get unlimited access and several nice tools while supporting the authors (me, OK, it's me) providing this content. We've got some brilliant, completely original, definitely not generic stuff, tips on how to prepare for your golden years, because apparently, some folks still need a gentle reminder.
Now, if you're a regular reader, you'll know that we're all about investing defensively. None of that risky, high-flying stuff for us, no sirree. Not unless we're busy trading some risky high yield stocks to generate capital gains from better research. We only do that pretty much all the time. But we still allocate most of our portfolio toward lower-risk companies.
We firmly believe in minimizing risk, and we think you should too. But don't worry, that doesn't mean you have to stash all your cash under your mattress (unless that's your thing, in which case, you do you). It just means that you should focus on companies with a solid financial position for long-term allocations.
A Story
Once upon a time, there was a hiker named Sarah who loved to explore the rugged terrain of the mountains. One day, she decided to venture to a particularly treacherous peak, and found herself standing on the edge of a cliff overlooking a steep drop into the abyss below.
As she took in the breathtaking view, Sarah suddenly lost her footing and tumbled over the edge of the cliff, plunging into the unknown depths below.
In that terrifying moment, Sarah felt as though she was free-falling through space, with nothing to hold onto and no sense of control. She felt the air rushing past her, heard the roar of the wind, and saw the jagged rocks below getting closer and closer.
The end.
Believe it or not, I will actually tie that back into the article!
Where Americans Get Retirement Advice
Bankrate produced this cool image: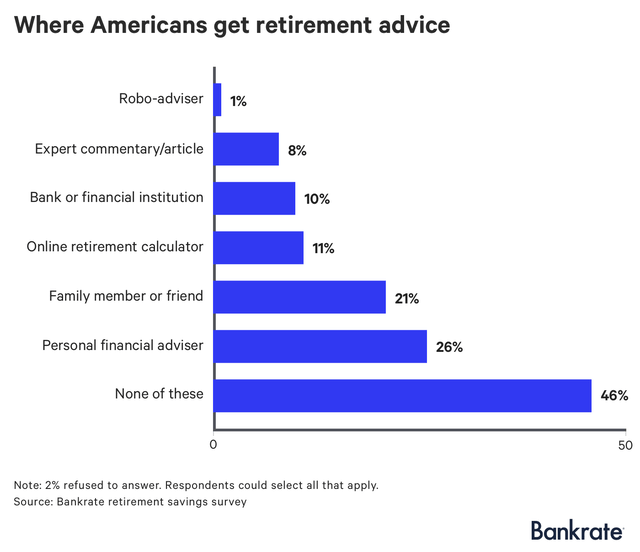 What's more impressive? That 26% of respondents claim they have a personal financial adviser or that 46% didn't use any of those sources? I wonder how often the personal financial adviser just sent them a copy and paste of the same document they sent out several hundred times before. I invite them to send anyone a link to this article.
Owning Real Estate
7% of Australians thought they would buy a property as an investment in retirement. Only 1% did.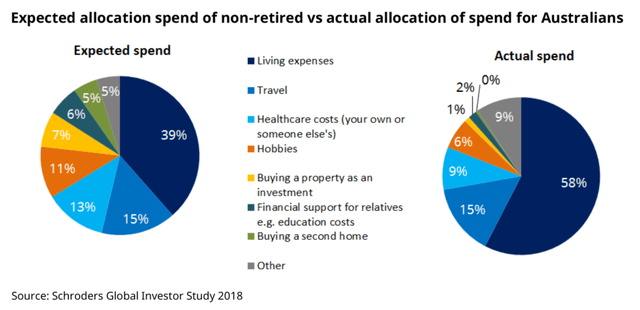 5% thought they would be buying a second home. 0% did. Maybe that's a rounding error though? So, it's simply less than 0.5%?
Forget about that dream of owning a second home in retirement - it's probably just a pipe dream anyway.
Real Estate Moguls
Oh, so you're thinking about becoming a real estate mogul in your golden years? Well, get ready for a whole lot of work as a landlord, because owning an investment property directly is no cakewalk. You'll be on call 24/7, dealing with tenant complaints and repairs. Unless, of course, you're a handyman and enjoy interacting with people, then it's perfect for you. But let's be real, most retirees just want to relax and enjoy their golden years without all the added stress. So why not let someone else deal with the headaches of property management and invest in a REIT instead? And if you're going to do it, do it right and pick a publicly-traded REIT, because private equity investments in real estate just can't keep up with the big leagues.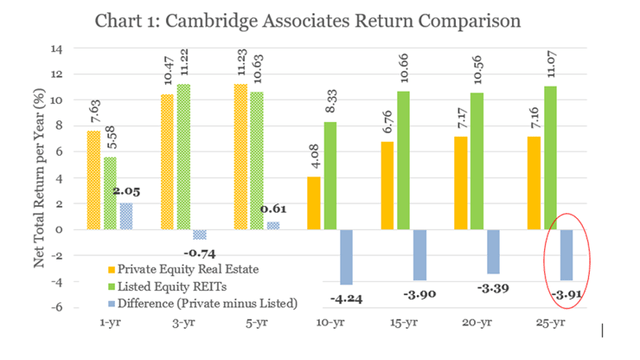 And if you do want to invest in real estate, make sure you're ready to deal with all the joys of being a landlord, like being on call 24/7 and dealing with problem tenants. Or, you know, you could just go the easy route and invest in a REIT - that way, you can sit back and let someone else deal with all the headaches.
REITs have professional management. REITs have exceptional scale on their operating expenses. Better yet, the management is almost always competent! If the management is incompetent, you may be able to figure that out by doing some due diligence. Don't have time to read up on every REIT? I've screened several of them for you.
Quality of Management
If you're up for it, owning an investment property directly can be a great way to spend your golden years. Just be prepared to deal with the joys of being a landlord, including finding good tenants, chasing rent payments, and dealing with potential evictions. And don't forget, a poor property manager could make things even worse, leading to higher vacancy rates and lower rental collections. Yikes!
Beware Leverage
Excessive leverage can lead to a higher risk of default, which can in turn lead to difficulties with lenders. This is especially true during times of economic downturn or market volatility, which can impact the revenues and cash flows of the REIT. In such situations, the REIT may need to cut its dividend to preserve cash or to meet its debt obligations.
It's important for investors to do their due diligence and assess the financial health of a REIT before investing, including its debt levels, debt maturity profile, and ability to generate sufficient cash flows to service its debt. In addition, investors should also evaluate the quality of the management team and their track record in managing the REIT's portfolio, maintaining occupancy rates, and delivering value to shareholders over the long term.
Actual Performance
Here's a great chart from JPMorgan which demonstrates performance for several sectors over 20 years. It even includes the average investor!
To be fair, this chart is several years out of date. Why? Because this chart supports my point much better than the newer charts!

Turn off the Television
This isn't about saving on electricity. It's about saving brain cells and preventing emotional portfolio management.
The news often reports on events that are emotionally charged or have a significant impact on people's lives. This often creates a sense of urgency and fear among the public, leading some to make irrational or impulsive decisions. Additionally, news outlets may use language or framing that's designed to elicit a strong emotional response from their audience, which can further fuel irrational decision-making.
Another factor that can contribute to irrational decision-making is the availability heuristic, which is a cognitive bias where people tend to overestimate the likelihood of events that are more easily recalled from memory. This can occur when the news repeatedly covers a particular event or issue, making it seem more common or significant than it actually is.
Overall, it's important to be aware of how news coverage can impact our emotions and decision-making and to approach news with a critical and analytical mindset. It can be helpful to seek out multiple sources of information and to take time to process and reflect on the news before making any important decisions.
Dividend Yield
Focusing solely on dividend yield can be problematic because it does not provide a complete picture of a company's financial health or its potential for growth.
For example, a company may have a high dividend yield, but that could be due to a declining stock price rather than an increase in dividend payments. If the company is not generating enough cash flow to support the dividend payout, it may be forced to reduce or eliminate the dividend in the future, which would be detrimental to investors who were relying on that income stream.
Additionally, a company may be reinvesting its profits into the business to fuel growth and innovation rather than paying out dividends, which could ultimately lead to higher long-term returns for investors. In these cases, focusing solely on dividend yield may cause an investor to overlook the company's growth potential and miss out on future gains.
The Worst Strategy
The worst retirement strategy I see - people looking at how much income they need for their desired lifestyle, how much money they already have, and calculating a retired return. If you have $10 million and don't spend lavishly, that's no problem. However, often investors come up with the idea that they need a double-digit yield to support themselves.
There are two problems. The first is that investing for double-digit yields, especially without monitoring positions to see when they should be dumped, leads to dividend cuts. The second is that even if the yield was maintained, it wouldn't grow. Consequently, inflation would still wreck the plan.
There's nothing wrong with looking at how much income you need and how much money you have, but solving for the yield is not solving the problem. If you're looking to average a double-digit yield, you simply need more portfolio or less expenses. You can pick which one, but you'll need one of them.
Right, there is always the "die early" strategy. I'm not going to count that as a third option though because I really don't fancy using it.
How To Generate Dividend Yield and Growth
My strategy is to mix shares intended for long-term growth with a few higher-yielding shares that are actively watched. That way we're not prevented from buying great long-term dividend growth machines simply because the yield today is low. Further, we can get much of our higher-yielding positions through preferred shares. We're generally looking at yields in the 8% to 9.5% range. By going with the preferred shares to achieve these yields, we are generally going to take on positions that are far less risky than most common shares with similar yields.
Here's an example:
We have a great deal of dividend growth coming from Rexford (REXR), Terreno (TRNO), Prologis (PLD), American Tower (AMT), Essex Property Trust (ESS), Camden Property Trust (CPT), Sun Communities (SUI), and Equity LifeStyle (ELS). These REITs have strong balance sheets and generate growth in AFFO per share that leads to growth in dividends. You could buy the Vanguard Real Estate ETF (VNQ) or the Invesco KBW Premium Yield Equity REIT ETF (KBWY), but then diversification can become diworsification. You'll end up owning office REITs as part of your portfolio and who wants to own office real estate? I'll tell you who doesn't, Realty Income (O). That's why they spun off Orion Office REIT (ONL):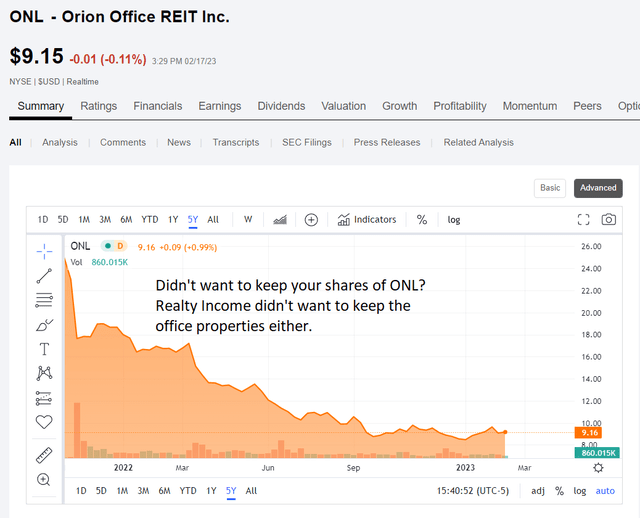 Besides those great dividend growth REITs (not talking about ONL), we also own positions in RC-E (RC.PE) at an 8.2% yield, AGNCP (AGNCP) at a 7.3% yield (poised to increase when the floating rate kicks in), and RITM-D (RITM.PD) at an 8.3% yield (poised to increase when the rate resets). That creates a more compelling combination of dividend growth and current yields. To be useful, I only picked shares that we own (except for the ETFs). I'm not simply throwing out a random list of tickers with higher page views like Tesla (TSLA), Apple (AAPL), Meta (META), Palantir (PLTR), and Netflix (NFLX). Who would do that just to get extra money?
Does our strategy work? It sure has so far: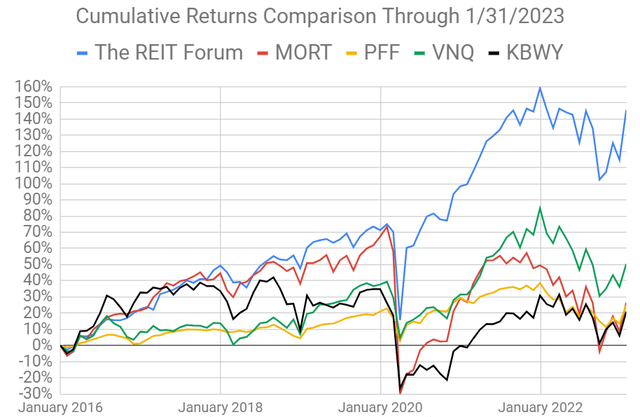 Your first instinct might be to suggest that anyone can throw numbers into Excel and create a chart. Well, most people. Let's be realistic.
However, we've been disclosing trades to our members on The REIT Forum in real-time and posting trade confirmations that demonstrate the trade was actually placed. Our returns are calculated the only way that makes sense: The change in the portfolio's value, adjusted for any cash added or subtracted.
Conclusion
Buying real estate directly is worse than buying REITs because it generally doesn't involve me. Dealing with tenants can also be annoying and it is harder to scale because you have to invest so much time and you won't get the same terms on debt leverage as the REITs I own. Let's just go with that as the reason.
You can prepare for retirement in advance with boring methods like dollar cost averaging, or you can learn to manage your own portfolio. Either option is fine. Since you're on Seeking Alpha, you're probably here to learn about option 2. However, I've met plenty of investors who would've been far better off choosing option 1.
The other key to understand is that you shouldn't throw your money away. Don't buy junk. That's actually some of the very best retirement advice, but everyone hates it. I see people with less than a fifth of my income and less than a fiftieth of my net worth blowing cash in ways that make me cringe. Seriously, stop buying this stuff. You're not on Seeking Alpha because you're struggling to get by on making $30k per year. If you are, then I change my suggestion to the following: Your job stinks. Stop looking for better investments and look for a better job. Unless you're going to become a financial analyst, you're better off maximizing your return on time than your return on the portfolio. If you think you're going to become a financial analyst, create a contributor account and start doing research. Post your research and someone in the comments will tell you why it's bad stuff. That's a free review! Learn from the mistakes. People go to college to learn skills that are less useful than stock analysis or having a thick skin to shrug off insults about your terrible analysis.
Or, you could ignore everything I've said. You could calculate how much yield you need in year 1 (double digits?), before watching the portfolio dwindle away. You could even claim you're not concerned about the portfolio value flying toward rock bottom faster than Sarah. Best tie-in ever!