Shares of Extra Space Storage (EXR - Free Report) , carrying a Zacks Rank #3 (Hold), have gained 11.2% in the quarter-to-date period, outperforming the industry's growth of 3.3%.
Last month, this self-storage real estate investment trust (REIT) reported fourth-quarter 2022 core funds from operations (FFO) per share of $2.09, beating the Zacks Consensus Estimate of $2.08. The figure was also 9.4% higher than the prior-year quarter's $1.91.
The results reflected better-than-anticipated top-line growth. EXR experienced higher average rates for existing customers and a rise in other operating income, partly offset by lower occupancy.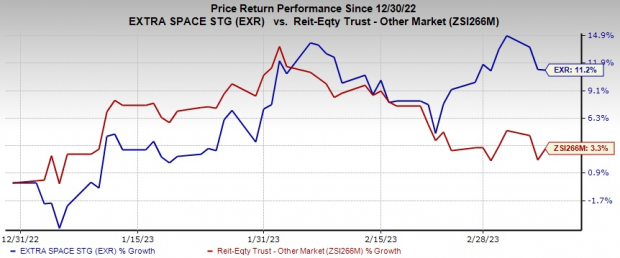 Image Source: Zacks Investment Research
Let us decipher the factors behind the surge in the stock price.
The self-storage asset category is need-based and recession-resilient by nature and generates high operating margins, given its low capital-expenditure requirements. Moreover, the self-storage industry continues to benefit from favorable demographic changes. Amid the flexible working environment, the demand for self-storage space has risen.
Extra Space Storage, the second-largest owner and/or operator of self-storage properties and the biggest self-storage management company in the United States, is likely to have capitalized on the favorable self-storage industry fundamentals, driving the stock up. In the fourth quarter of 2022, EXR's same-store net operating income (NOI) increased 13.4% year over year to $285.5 million.
The company is making concerted efforts to enhance its business and achieve geographical diversity through accretive acquisitions, mutually beneficial joint-venture partnerships and third-party management services. In 2022, it acquired 153 self-storage properties for a total purchase price of $1.37 billion. The company's 2023 guidance assumes $250 million in acquisitions.
Along with acquisitions, EXR is making strategic investments through other channels in the storage sector, including preferred equity investments and bridge loan programs, which have paid off well. In 2022, it originated $574 million in mortgage and mezzanine bridge loans and sold $228.7 million in mortgage bridge loans.
Extra Space Storage's robust balance-sheet position enabled it to capitalize on long-term growth opportunities. It exited fourth-quarter 2022 with $92.87 million of cash and cash equivalents, up from $71.1 million as of Dec 31, 2021. Also, credit ratings of BBB/Stable rating from Standard and Poor's and a Baa2/Stable rating from Moody's Investors Service render the company easy access to the debt market at favorable costs.
EXR's trailing 12-month return on equity (ROE) is 22.01% compared with the industry's average of 3.77%, indicating that it is more efficient in using shareholders' funds than its peers.
Solid dividends are a huge attraction for REIT investors, and EXR has remained committed to that. It has increased its dividend six times in the last five years, and its five-year annualized dividend growth rate is 14.77%. Such efforts boost investors' confidence in the stock.
However, Extra Space Storage operates in a highly fragmented market in the United States with intense competition from several private, regional and local operators. The development boom of self-storage units in many markets and a likely rise in vacating volumes could curb the company's pricing power and turn on discounting.
Also, rising interest rates are likely to increase the company's borrowing costs, affecting its ability to purchase or develop real estate.
Stocks to Consider
Some better-ranked stocks from the REIT sector are VICI Properties (VICI - Free Report) , Alexandria Real Estate Equities (ARE - Free Report) and Terreno Realty (TRNO - Free Report) , each carrying a Zacks Rank #2 (Buy). You can see the complete list of today's Zacks #1 Rank (Strong Buy) stocks here.
The Zacks Consensus Estimate for VICI Properties' current-year FFO per share is pegged at $2.10.
The Zacks Consensus Estimate for Alexandria's 2023 FFO per share is pegged at $8.94.
The Zacks Consensus Estimate for Terreno Realty's ongoing year's FFO per share is pegged at $2.17.
Note: Anything related to earnings presented in this write-up represents FFO — a widely used metric to gauge the performance of REITs.