For actor Chris McNally, the ultimate luxury is going off the grid. And he takes his favorite room with him when he goes.
When he isn't busy shooting Hallmark's frontier drama "When Calls the Heart," McNally escapes the city and "resets in nature" in his cozy, no-nonsense rooftop car tent.
"Growing up in Vancouver, we'd go camping as a family all the time. I wanted a way to explore the California landscape, and I've been camping on the ground for many years," said McNally, 26.
Since then he's come up in the world, and at the campsite.
He and his girlfriend stretch out in the collapsible tent, mounted atop his 2005 Toyota 4Runner. Their choice is the $3,900 Skycamp 2.0 by iKamper, which features a king-size memory foam mattress that sleeps four — the couple plus their two Pitskies (pit bull-husky mix puppies), Charlie and Bowie.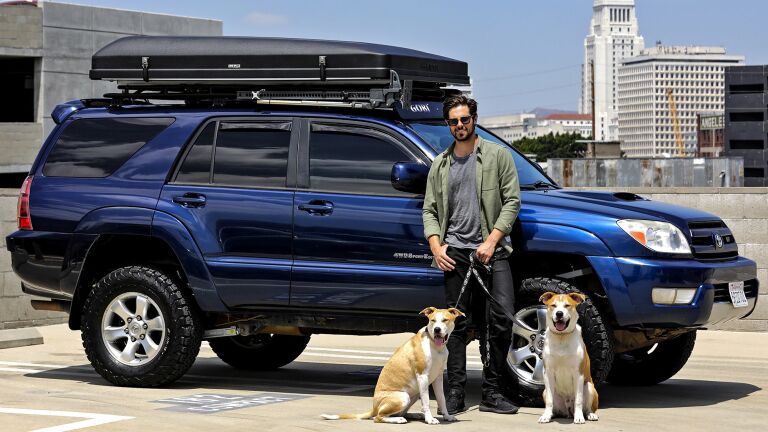 "The dogs always take up a ton of room, so I knew that space was our first priority. And speed. This unfolds and sets up in about a minute," McNally said.
Of his recent adventures, Big Bear has become one of his favorite escapes.
"It reminds me a lot of where I grew up, except for the massive, smooth, egg-shaped boulders. We don't have anything like that in Vancouver," he said.
Though off the grid, McNally allows a couple of urban indulgences on his trips, including an outdoor "movie theater" and gaming area.
"It's a little spoiled, but being able to sit outside and play Mario Cart is pretty awesome," he said.
Why is this camper your favorite room?
Because I can go almost anywhere with it. When it's raining we can come inside and play cards. We have twinkle lights all over; it's really cute at night and more than enough to give a sufficient glow to see. Great mood lighting.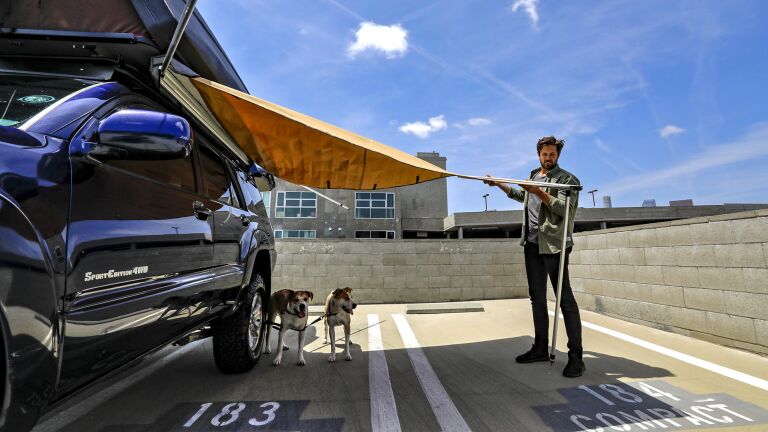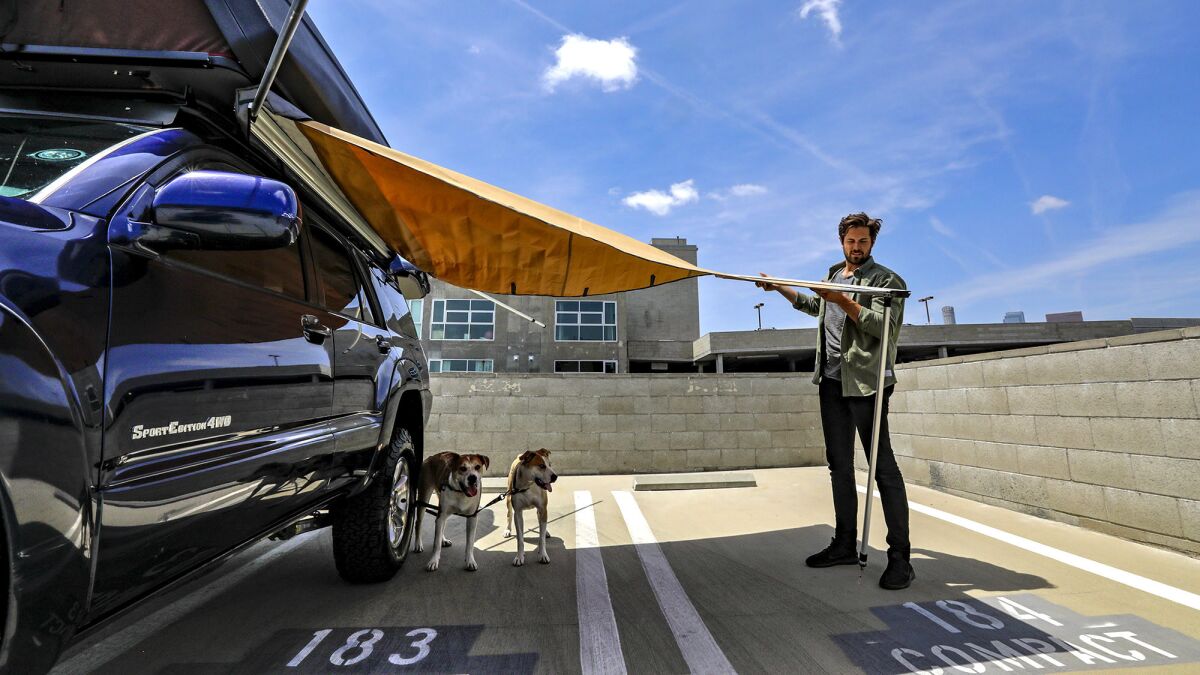 What inspired you to get a camper?
I'm really interested in doing expeditions remotely for a week or two, so I'm working toward building a rig that's capable of that. We're going on a road trip up to Vancouver this summer and doing a bunch of camping there. We'll be going up the interior of California into Oregon and Washington, then we'll cut over to Vancouver Island. This will be the longest journey so far in this tent.
Tell me about the camper itself, what are some of its cool features?
The reason I went with this one is that it actually folds down to a king-size mattress. When you've been traveling all day and you're tired and just want to set up camp and not spend a couple of hours doing it, being able to pop this tent up in a minute makes a huge difference.
Tell me about the rest of your rig.
This has an outdoor kitchen that I can set up under the awning. I have a big awning on the other side, too, that goes way out, as well as an annex room — so if it's super-windy, raining, or if you want to watch a movie during the day, you can have an inside space on each side. I love being alone out in nature and resetting, but there's also something really fun about being able to watch a movie in that environment.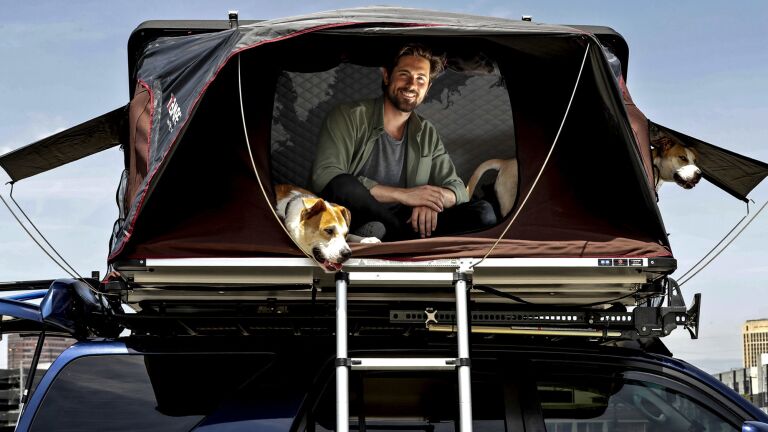 Do you have a favorite moment in here?
It was in Big Bear — the coyotes were howling, which the dogs had never heard before, and they were pretty stressed about it. They were on guard for a couple of minutes, but then the exhaustion of the day took over and both of them curled up on blankets and pillows and fell asleep. It was super cute. Then my girlfriend and I sat out on the front of the tent like it's a porch. The stars were visible and beautiful, so we just pulled the tent fly back, hung out and had a glass of wine. It was so peaceful, sitting out with our legs dangling like we're on our own little porch on top of the car, with these two bundled up fast asleep. It was the best.
ALSO